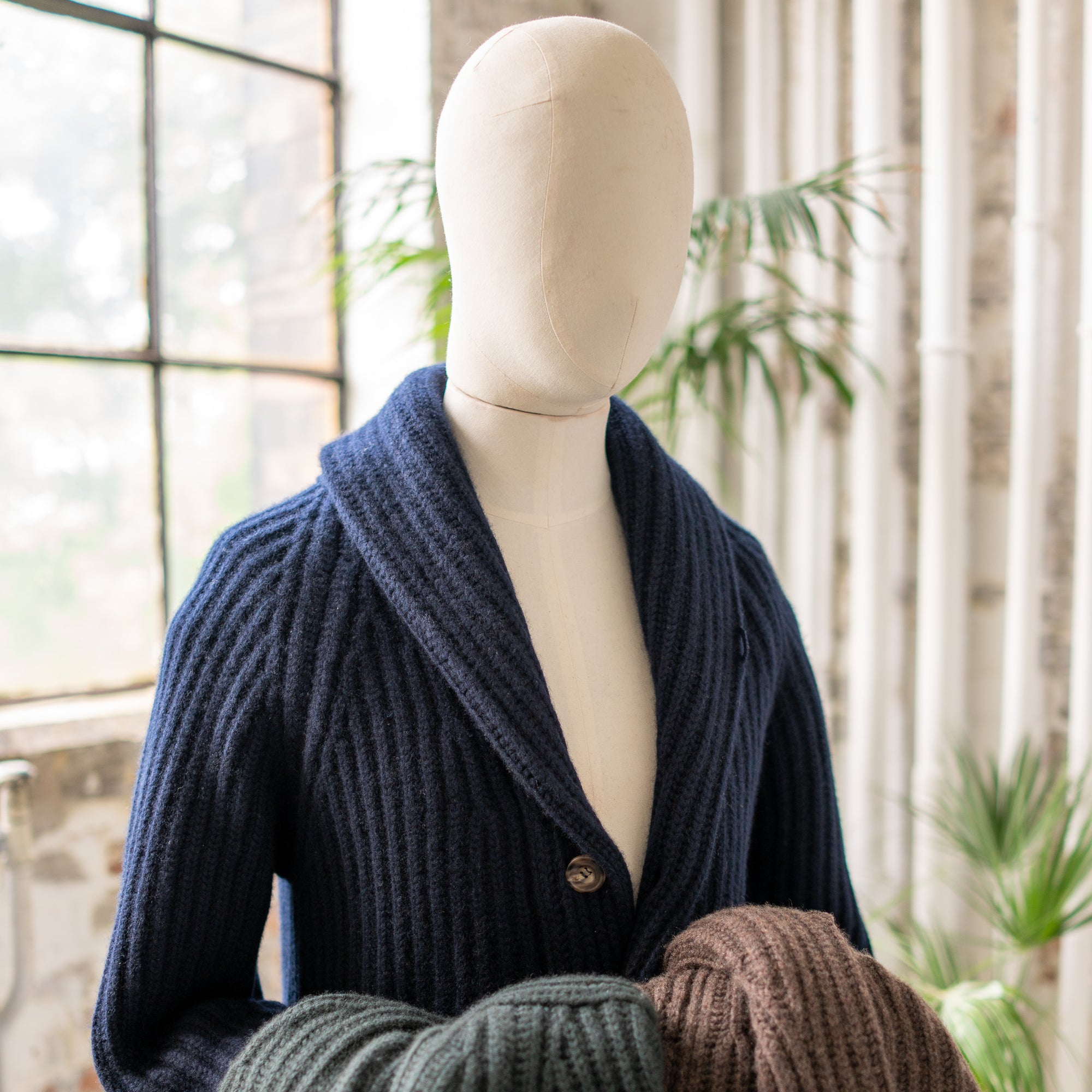 What Makes Scottish Knitwear Special?
0 comments
We asked our guest writer Alex Freeling to delve into the storied history of Scottish knitwear.
It's a good thing to buy local, but even better when it means buying the best in the world. Scottish knitwear is prized by French and Italian fashion houses, London tailors, and buyers for Japanese and American luxury retailers. Like the best Scottish whiskey makers, knitwear makers have survived by preserving traditional materials and methods, and innovating without losing sight of what made the original great. In an industry continually broken down and rebuilt in pursuit of growth at any price, the Scottish mills and makers have become the gold standard in sustainability and luxury by keeping things steady.
Wool production in Scotland can be traced back to the thirteenth century. It began as a literal cottage industry, with carding, spinning and knitting taking place in the home, and makers often producing garments for relatives and friends. For farmers and fishermen, heavy wool jumpers were the last line of defence against a punishing climate. This long knitting tradition helps to explain why so many classic pieces of knitwear still take the names of Scottish regions and locations, such as Shetland and Fair Isle.
With the introduction of the stocking frame in the late eighteenth century, a home pursuit was gradually translated into a recognisable modern industry. Knitted garment makers who subsequently found international renown followed in the early nineteenth century. It's often thought that modernisation means a conflict between old and new ways of doing things. In this case, it's not true: hand craft skills persisted and were used alongside mechanical methods throughout the twentieth century. Rather than being a remnant of an outdated approach, the use of outworkers and the persistence of a tradition of superlative manual skill made the workforce more flexible in the 1970s and 80s, tough decades for many British industries. Beyond the flexibility, skilled handwork also provides an unparalleled level of refinement and precision; the hand finishing practices by producers in the Scottish Borders today are a key part of their luxury credentials. 
 The other side of tradition is sustainability. In other parts of the luxury industry this increasingly clear fact has led to producers beginning to think about their immediate environment for the first time, but Scottish knitwear manufacturers, like their counterparts in farming and spirits, have long understood that their romantic appeal comes not only from their products but the untouched mountains and lakes that they conjure for consumers. 
The other key ingredient in knitwear is yarn. The border town of Hawick might be the capital of knitwear, but the Lowlands town of Alva is its cousin in spinning. It's there, on Loch Leven, that Todd & Duncan has spun cashmere and lambswool for the past 150 years. Fibres are dyed before spinning, to give a more uniform colour and extra softness. The spinning process is mechanical, but slow: the mill still uses spinning mules, updated but recognisable versions of the same machines used in the early industrial revolution of the eighteenth century, to produce a fuller and more robust yarn compared to modern electrostatic or friction spinning machines. All cashmere is soft, but not all cashmere lasts: you only really notice the difference months or years into the life of the garment. Equally, quality lambswool such as our superfine Geelong will soften and break in beautifully over time, meaning that a long lasting garment is a comfortable one. The final ingredient, as with so many craft industries, is the water: in this case, sourced from Loch Leven.
0 comments